Inkwell company stores simplify the process of purchasing Branded Apparel, Print and Promotional products.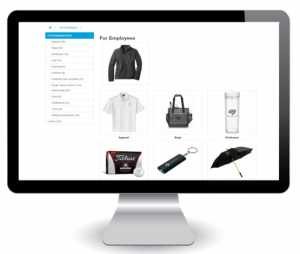 Your organization has invested countless hours into developing a brand story and logo. Why, then, would you want your promotional products to send the wrong message to your customers and agency partners?
If you're like many businesses, you may not have a good way of tracking who orders what and how often. You leave the ordering up to your account managers, but mistakes are made. Old logos are used. Colors aren't consistent. Products aren't in line with your branding guidelines.
The simplest and most effective way to ensure that all branded products will be effective at delivering your brand's message is to have a company store. With Inkwell Global Marketing, it has never been easier to feature a professional online store with the latest products and on-demand corporate apparel.
Here are the features you can expect from a company store from Inkwell.
Great brands. Carry the hottest brand name apparel in your store – the brands people want to wear! Inkwell carries Nike, Adidas, Under Armour, North Face, Polo, Yeti and Brookstone.
Pre-approved merchandise. Don't be surprised by the promotional products your staff is ordering. Pre-approve all products and promotions to ensure the items meet your branding guidelines and are of the highest quality.
Easy ordering. Let your teams complete orders in a few simple clicks. We also have additional features that can be added for an extra cost, such as imprinting locations and shipping calculators.
Reporting. See more return from your branded merchandise. Reporting tools help you better decide which items should stay and which should be discontinued.
Inkwell has four company store packages to choose from: Catalog, Basic, Advanced and Custom. Contact our online store experts to discuss your needs and budget. We're confident we can build you a beautiful store that simplifies the promotional product ordering process and enhances your brand image.
Secure Sites
Inkwell produces and manages secure sites that are protected and have the option of integrating your business' internal purchasing platform.
LEARN MORE
Real-Time Reporting
Conveniently track sales and inventory for each item in your web-store in real-time. Manage usage, order history, user lists, sales charts, as well as custom reports.
GET INFO
Customer Service
Our user-friendly web store technology allows for easy ordering, while providing the additional help you need, when you need it.
CONTACT US