Corporate swag is an effective marketing tool that provides great ROI while boosting brand awareness and recognition. Businesses have been using swag items like bags, USB sticks, tote bags, t-shirts, pens, and other merchandise to not only promote their brand but also reward their customers and employees. It is also used during employee orientation and onboarding programs.
Usually given away as freebies to the targeted audience, existing customers, leads, and employees, these items are appreciated and many a time even sought out. This, however, requires careful thinking and planning about the type and the quality of the product, its design, and decoration. Customized swag pack options can also be considered.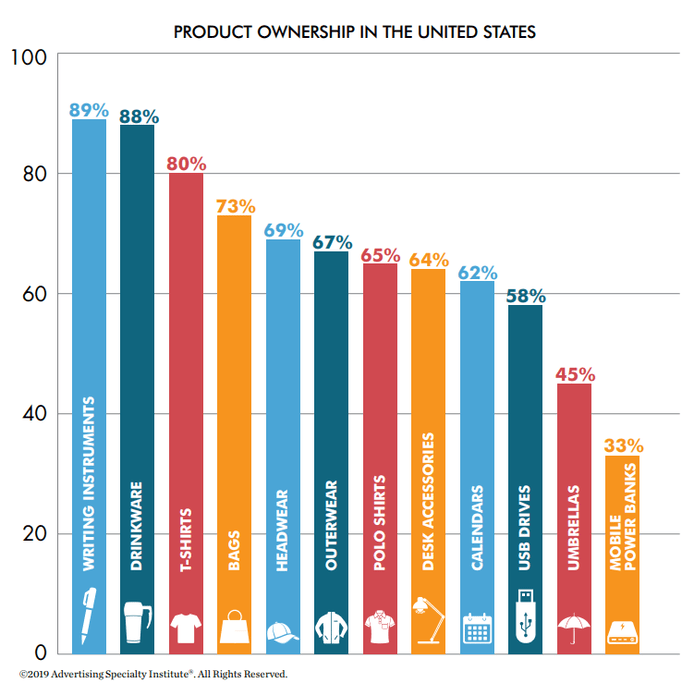 Image Source: https://www.ayapromo.com/blog/2019-edition-global-ad-impressions-study-by-asi
Swag Items and Their Impressions
SWAG means the Stuff We ALL Get and refers to the promotional items used by companies to promote their brand and reward loyal customers and employees.  For the best results, businesses require a high-quality curated selection of swag items. These swag packs, when packaged impeccably leave a lasting impression on the clients.
A study revealed that 89% of people remember where they received a promotional product gift and 83% of the consumers like getting products with an advertising message. And 85% of people who get gifts prefer to do business with the advertiser.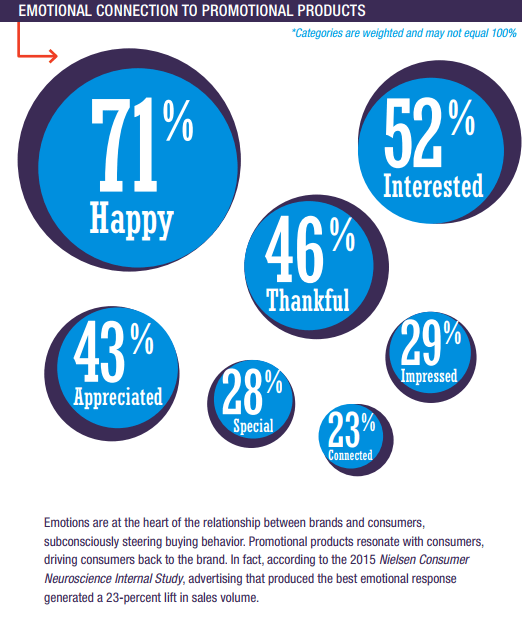 Image Source: https://biznology.com/2018/02/how-promotional-products-fit-in-with-the-modern-consumer/
Choosing the Right Corporate Swag
To ensure that your corporate swag items are received well and result in improved brand recognition, you need to consider certain things:
#1 – The Quality of Swag Items
The quality of swag items offered by a business is a reflection of how it views its business. Providing items that break down soon or our worthless can send the wrong signals and dissuade your employees as well as customers. In contrast, choosing items that are not only stylish but useful and long-lasting tends to have a positive impact on your business' reputation. Ensure that the swag item selected by you is:
Useful
Well-made and will not fall apart soon.
A reflection of your care and love for your team or customers.
#2 – Matches Your Company Culture and Brand Values
A key consideration in selecting the right corporate or marketing swag for your business is that it should match your company's ethos and culture. If your business promotes sustainability do not choose items made of single-use plastic or products that can be thrown away after some time. Again, choose items that are relatable to your business and carry your logo or brand name so that users can identify them with your business. This not only creates a long-lasting impression but improves brand recognition.
#3 – Be Creative
By offering your customers and employees the items that they want and need, you enhance the effectiveness of your marketing swag. Do a little research and identify products that are not only useful but unique too. Results of a survey revealed that more than 50% of the consumer keep some of the promotional products received by them for at least five years and 40% of the consumers have kept a promotional item for over a decade. Again, consumers love brands that offer them environmentally friendly swag items.
Besides focusing on the quality and the usability of the corporate swag items picked up by you, do ensure that you do not overdo the branding part. Having your logo or company name or even a tag line on the selected item is a good marketing strategy. But having all or multiple elements can make the item unattractive and spoil the whole effort. So, do some research and choose the most effective option for promoting your brand.