Branded merchandise remains at the top of many company marketing collateral lists year after year. It's an affordable marketing approach that almost certainly drives a return on investment (ROI) for brands.
How? Branded swag creates a lasting impression on recipients and can help you build strong relationships with customers and clients. It also makes your employees feel seen and appreciated, which boosts their morale and productivity. The most effective brand merchandise is personalized and functional. It makes people proud to use it whenever and wherever, creating widespread brand visibility, recognition and awareness.
Beyond how you personalize your merchandise, you also need to keep up with new branding trends and styles. Staying up-to-date ensures you gift promotional items that are practical and relevant. Below, we explore the top trends for branded merchandise in 2024 and highlight options for you to consider.
Our Top Picks for 2024 Branded Merchandise
In 2024, companies are realizing the need to present their customers, clients and employees with gifts that support and enhance their lifestyles. Popular branded merchandise options include tech gadgets, wellness essentials, office supplies, drinkware and apparel. Here are five thoughtful gift ideas that are trending and relevant in 2024.
1. SwagPacks™
These are custom-branded products carefully curated and packaged together. Instead of gifting just one item, you can cast a wider net by gifting a box filled with several hand-picked items from the same category. SwagPacks™ have a specific theme and create an unforgettable experience for the recipients. Some popular options include:
Eco packs: Bundling eco-friendly branded merchandise shows your company's commitment to sustainability, which many customers and clients highly value. Examples of branded merchandise for eco packs include recycled notebooks, lunch boxes and tote bags.
Tech packs: Tech-savvy merchandise packs are among the top 2024 branding trends. They relay thoughtfulness and practicality as they help the recipients stay connected at all times. Some gadgets to add to tech packs include Bluetooth speakers, wireless chargers, headsets, phone holders and stands.
Stationery packs: These are the most common swag packs. They include office supplies such as notebooks, writing accessories and calendars. You can personalize them by printing the recipient's name alongside the company's branding on each item.
Wellness packs: Wellness is one of those buzzwords that are shaping trends today. Wellness swag packs various items that support a healthier lifestyle, keeping your brand at the top of the recipients' minds.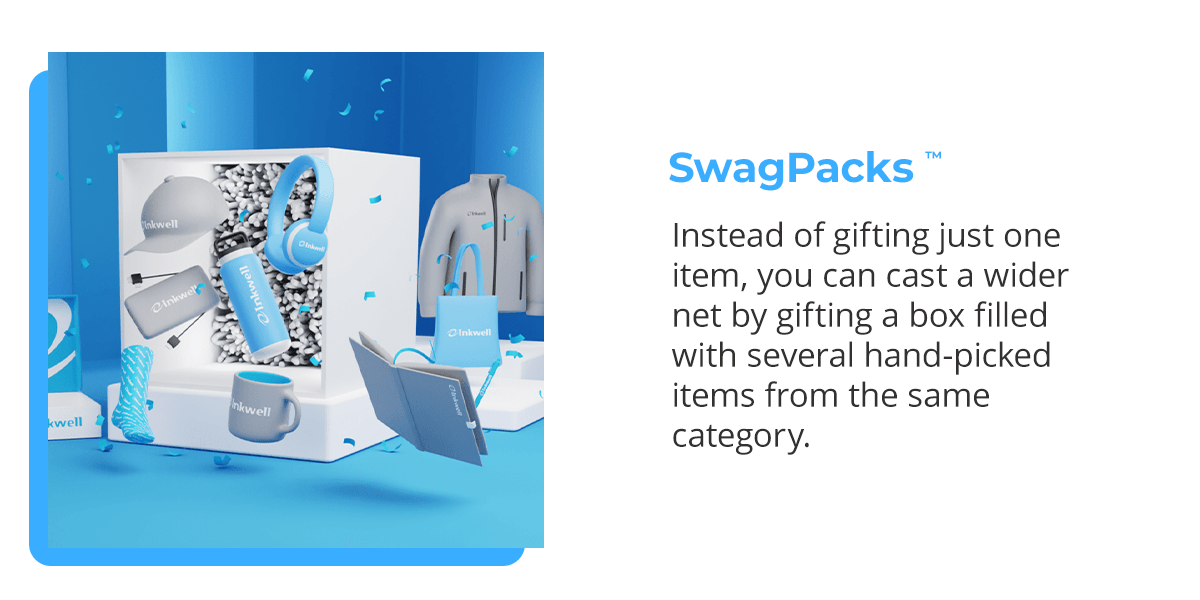 2. Wireless Charging Pads
Branded wireless charging pads promise ultimate brand visibility as your customers and employees take them on the go. These convenient gadgets let you charge your compatible device simply by putting it down on the pad. Charging pads can also help your employees be more organized at work by eliminating clutter and cables on their desks.
You can opt for small wireless charging pads or larger mouse pads with wireless charging capability. You can also impress with a wireless charging pad that doubles as a phone sanitizer. This combination allows gift recipients to charge and sanitize their phones simultaneously. They can also use the sanitizer option to kill up to 99% of microorganisms on watches, keys, credit cards and eyeglasses.
3. Blue Light Glasses
Blue light-blocking glasses are trendy merchandise in both the tech and wellness categories. These glasses reduce glare and light sensitivity from digital devices. Your employees and customers will appreciate your efforts in helping them minimize eye strain while using their computers and phones. Sunglasses are another branded merchandise alternative that will impress and get you brand exposure.
4. Journals and Notebooks
Journals and notebooks are a staple in the branded merchandise industry. They're versatile because recipients can use them for note-taking during meetings, brainstorming, planning or journaling. With your company logo and branding on the front, you can get plenty of eyes on your company.
You can appeal to your customers and employees more by gifting them sustainable office supplies. These include notebooks made using recycled paper or post-consumer recycled materials or refillable journal inserts. Get options with phone pockets or device stand covers to make the notebooks and journals more functional.
5. Drinkware
Drinkware is ideal for corporate gifting. Glasses, mugs and tumblers can be used when sipping coffee or tea in the morning or hydrating with water throughout the day. Plus, reusable drinkware is sustainable. To make your drinkware merchandise a must-carry, you should choose options that elevate the user experience.
Some features to consider are insulation, ergonomic mouth openings, materials, weight and overall quality. Popular branded drinkware items include:
Water bottles
Tumblers
Travel mugs
Can coolers
Coffee cups
Insulated stainless steel, aclyric and plastic drinkware is preferred to glass because it boasts durability and maintains the temperature of hot and cold beverages. For example, collapsible silicone water bottles are a convenient option that will impress employees and customers. For your corporate clients and board members, a branded coffee press and glass set serves as a helpful and memorable gift that keeps your brand front of mind.
2024 Branded Merchandise Trends
One of the top trends shaping how companies present and distribute branded merchandise in 2024 is the emergence of corporate web stores. A corporate web store is an online platform that centralizes how you print, hold and ship your promotional merchandise. These stores streamline the process of producing corporate swag by ensuring high-quality and precise branding.
These websites include detailed product listings organized in categories and allow online search to ensure customers, clients and employees can find your brand's merchandise with ease. Ordering custom branded merchandise online simplifies the ordering process, provides access to order history and supports multiple payment options.
Other trends that are shaping the future of visual merchandising include:
Ensure your promotional swag is as simple and minimalist as possible. Keep the lines clean, include white space and use vibrant colors for your logos and brand messaging.
Deliver a consistent brand message across your merchandise, website and other marketing collateral.
Prioritize sustainability and ethical branding to earn customers' trust and build long-term relationships.
Contact Inkwell to Talk About Branded Merchandise for Your Business
If you're looking for branded merchandise to impress customers, clients and employees, Inkwell is the leader in top-quality corporate swag. We can help you create unforgettable branded merchandise that maximizes your marketing ROI. We pride ourselves on impeccable customer care and getting your products right every time.
Convenience is guaranteed with our innovative corporate swag stores. We use cutting-edge technology to build company stores, pop-ups and microsites that help you streamline your swag production and distribution and deliver seamless online shopping experiences.
Inkwell is based in New Jersey, providing national and global support options for customers. Schedule a demo today to learn more about building an online company store. You can also contact us to learn more about our branded merchandise for businesses.