Make Your Brand Stand Out with Custom Solutions
DTG printing is a relatively new and now one of the most popular printing methods around. Also known as Direct to Garment printing, DTG involves a special printer (with special ink), that directly prints the ink onto merchandise with your desired design. Think of it like a massive inkjet printer, except, rather than printing out boring paperwork and mindless memos, we get to print out inspiring messages paired with your logo, off-the-wall images like sharks jumping through hoops or whatever graphic you can dream up (we prefer the sharks, though).
Inkwell Introduces Direct to Garment Printing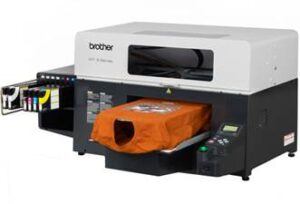 DTG uses the newest technology in apparel printing which allows us to print any quantity order with highly detailed, full color designs to fit any budget. Staying on top of the trends, Inkwell recently added direct to garment printing, transfer printing and application to our in-house production services allowing us to print on a wide variety of merchandise for as few as one item with no setup charges.
Not only can we print your design in full, vibrant color, but we can also personalize the design for a more unique look. With our dedicated team of in-house product designers, let us help you make your brand messaging pop and deliver a promotional product that has serious impact.
With this exciting new technology, now you can experience even more flexibility, faster service and lower costs.
Direct to Garment Printing Brings Brilliant Results
At Inkwell, we only use the best quality inks to distribute color evenly; it literally fills in the cracks and is absorbed by the fibers of the garment for a high-quality, high-resolution digital imprint. And as a bonus, the ink is water-based, nontoxic and environmentally safe.
The new high-tech equipment allows us to print on light or dark garment such as t-shirts, bags, coats, scrubs, hats, towels and more. Direct to garment printing offers endless printing possibilities.
Are you a corporate merchandise store looking to expand your offerings? Do you need to apply athlete names to bags or numbers to apparel for school sports? Maybe you're searching for academic uniforms with personification, customized products for franchise programs, or personalized garments for a small family reunion?
All items are digitally printed in-house from our New Jersey facility and deliver brilliant, full-color images and logos for any industry.
Whatever your reason…however many you need; we've got you covered.
In-House Direct to Garment Printing with Inkwell
Combining global sourcing expertise with our in-house, USA-based decorating abilities, Inkwell provides the most cost efficient means to manage the procurement and distribution of branded apparel and promotional products. Whether you need 100 custom products or just one, DTG is the way to go.
Inkwell works with the best apparel brands including Polo, Nike, Under Armour, Carhartt, Columbia, Patagonia, Adidas, IZOD, Oakley, and Ogio. You can also search thousands of other promotional products at www.inkwellshowcase.com and contact us at (800) 437-8518 for a free quote on direct to garment printing.