The single reason businesses invest in promotions is that it sets the brand apart from the competition and increases brand awareness. So, it is no surprise that the promotional products market is expected to grow at a CAGR of 3.01% to reach $4 billion by 2024. Launching a promotion through advertisements requires the application of advanced analytics to gauge customer inclinations, preferred offers, and additional resources to maintain an advertising and PR team. Promotional products, on the other hand, are a one-time investment that have the power to become your brand voice through the recipients of the products.
This can prove incredibly useful for small businesses with a limited marketing budget. Branded giveaways can help you garner good will, which traditional advertising might not. Here's a look at the various ways in which promotional giveaways can help your business.
Benefits of Promotional Products
Promotional products have a proven history of memorable brand projection for B2B and B2C marketing. They offer significant value for small businesses in a cost-effective way.
Alternative to Business Cards
A high-quality product with a thoughtful message and brand logo is a powerful marketing tool. It goes beyond the brand bragging about itself through advertisements. It reflects your brand image, message, and personality, and works as a clever alternative to the classic business card. But remember to choose a promotional giveaways provider who offers high-quality items at affordable prices and ensures the best results in branding those items with your company logo, colors, and messaging.
Customer Retention
The key to sustaining growth is to promote customer loyalty. Rewarding your repeat customers with promotional products is an excellent way to make them feel appreciated. This, in turn, can motivate them to talk about your brand. Word-of-mouth promotions can be much more effective than any other type of marketing because customers tend to trust the people they know. Plus, you gather eyeballs each time the recipient uses your promotional item. Most recipients will use promotional products irrespective of size or cost. In fact, research shows that 57% of American consumers tend to keep a promotional giveaway for over five years. Can you imagine the exposure you can garner in that timeframe?
Lead Generation
Did you know that 9 out of 10 people can recall the brand that gifted them a promotional product? So, you are likely to be the first company they think of when they are out shopping for products/services like those you offer. Research also shows that a promotional item generates an average of 344 impressions each month! These branded items could include apparel and desk accessories, such as pens, stationery, coffee mugs, writing materials, water bottles, etc. It is an opportunity for small brands to turn quality leads into loyal customers.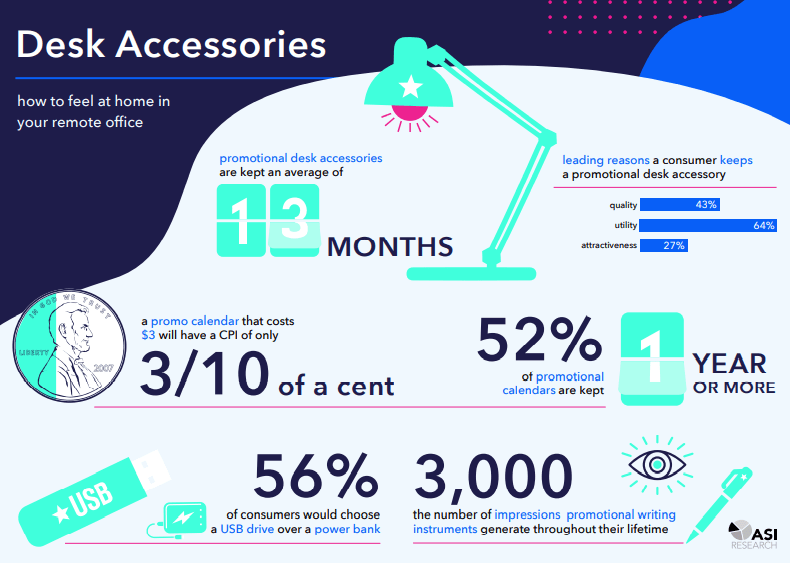 Image Source: DMG_ASI_PopularPromo2021_Infographic (godelta.com)
Long-Term Brand Exposure
Promotional items can be used anywhere from a few months to several years. A good quality product adds value in the long term, not just by ensuring brand visibility but also by asserting your commitment to quality. Additionally, it is an investment that keeps giving for a long time even after your business has outgrown its initial market size and target customer base.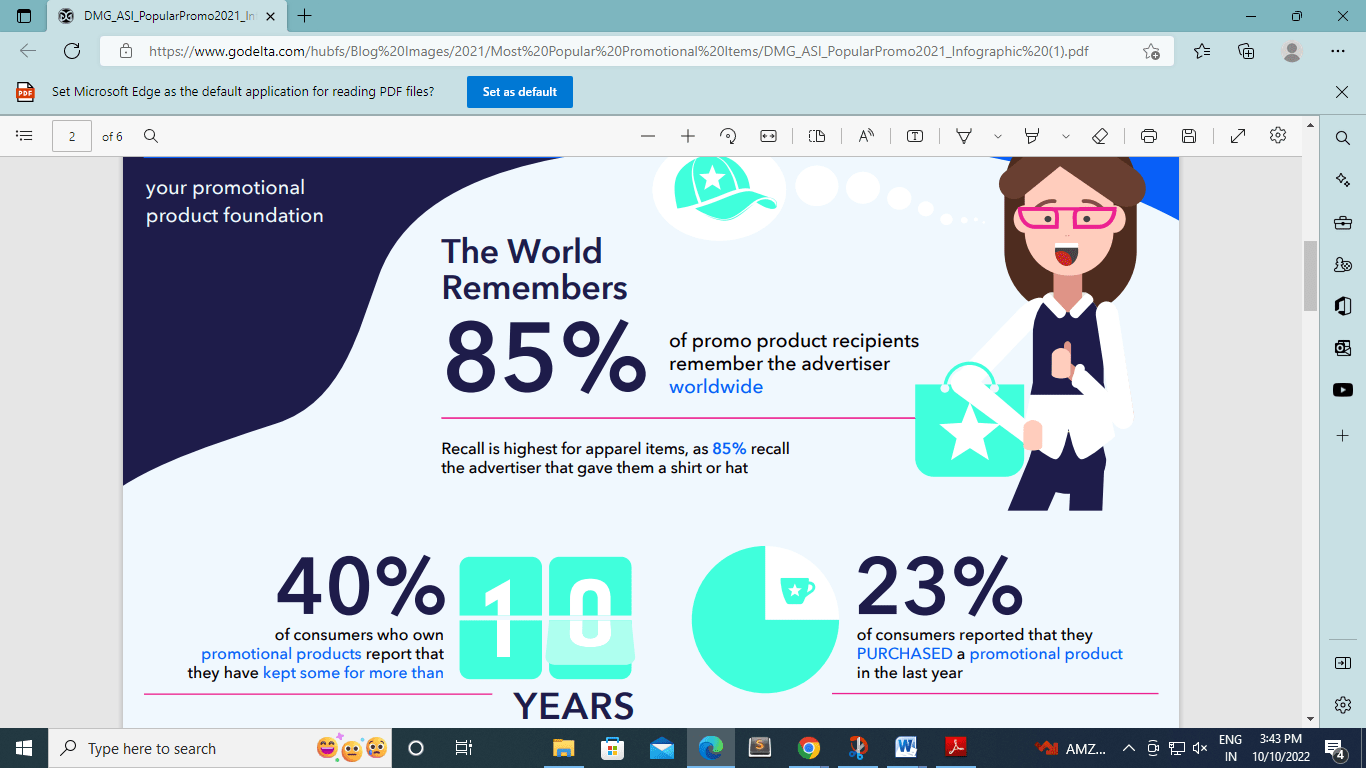 Image Source: DMG_ASI_PopularPromo2021_Infographic (godelta.com)
Trust Building
Smaller businesses need more exposure and extensive marketing to build trust and capture new customers. Branded merchandise helps customers recognize the business readily and think positively about it.
With competition only likely to increase going forward, it is time to consider the most effective ways to attract and retain customers. Promotional products could help you do just that.