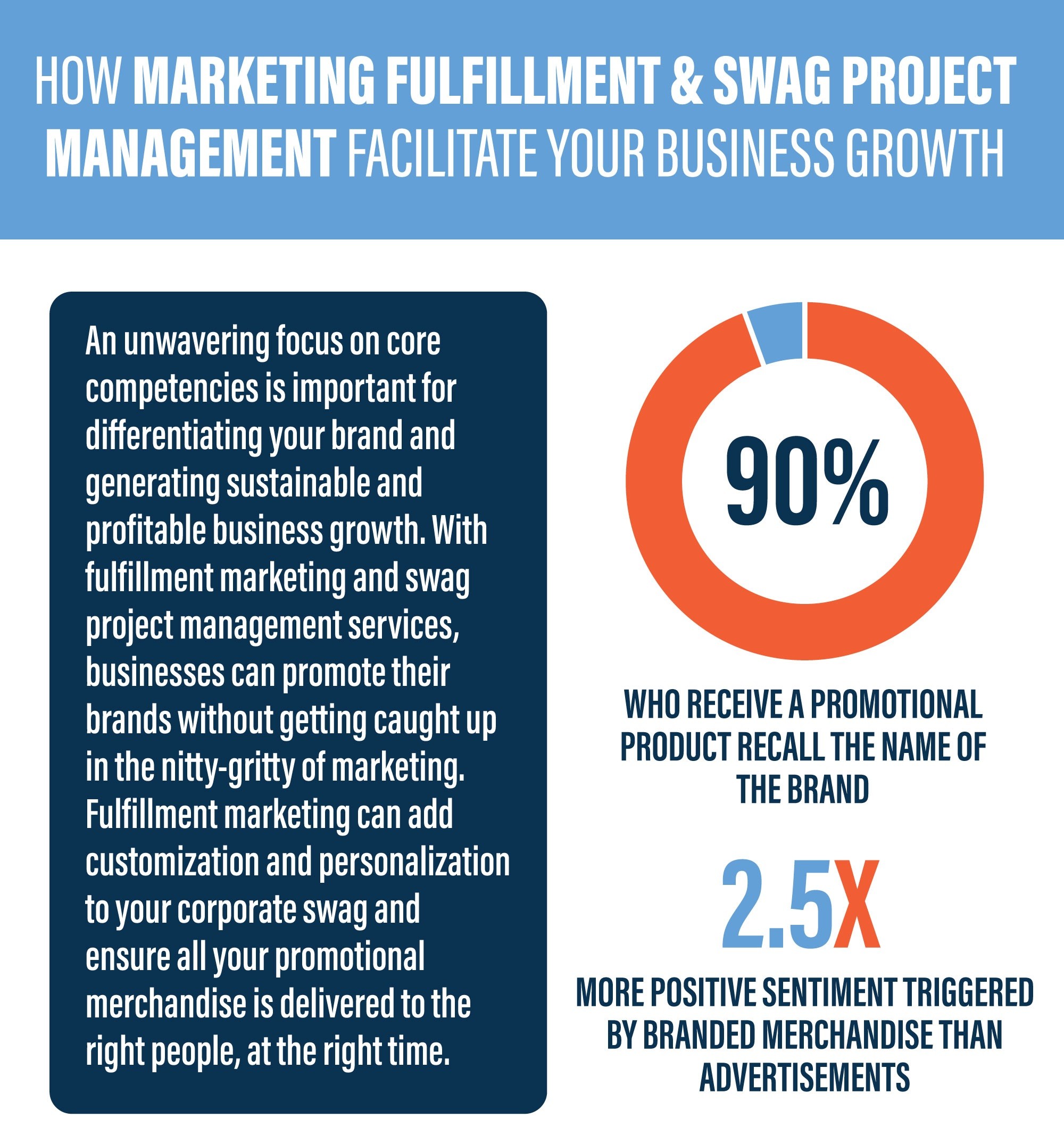 An unwavering focus on core competencies is important for differentiating your brand and generating sustainable and profitable business growth. With fulfillment marketing and swag project management services, businesses can promote their brands without getting caught up in the nitty-gritty of marketing. Fulfillment marketing can add customization and personalization to your corporate swag and ensure all your promotional merchandise is delivered to the right people, at the right time.
90% of those who receive a promotional product recall the name of the brand.
2.5X more positive sentiment triggered by branded merchandise than advertisements.
The Role of Marketing Fulfillment in Business Growth Strategies
Choosing the right promotional items is only the beginning of brand promotion. The items need to be stocked and distributed. A good marketing fulfillment service takes care of warehousing, kitting and distribution, so that businesses can focus on the event or their daily operations to spur growth. They can also take advantage of volume discounts without storing the inventory themselves.
Can offer from simple pick-and-pack to complex web stores for on time, on budget delivery.
Zero inventory risk, with benefits of on demand delivery, quick turnaround, and single piece ordering.
Swag Project Management: The Key to Successful Promotional Marketing
Swag has proved to be a high-impact and cost-efficient way to promote your brand. It not only boosts brand awareness and recall, but also increases engagement and has a direct impact on sales. Professional swag project management has helped businesses grow by helping move prospects faster through the sales funnel and increasing customer retention.
85% recipients of corporate swag did business with the company that gifted the item.
57% of Americans keep a promotional swag product for more than 5 years.
Benefits of Outsourcing Marketing Fulfillment and Swag Project Management
Not all companies have marketing expertise and cannot efficiently execute every aspect of this ever-growing domain. By outsourcing marketing fulfillment and swag project management, businesses can access professional services at a fraction of the cost. The external team can offer expert advice as they remain abreast of the latest trends and industry changes.
59% companies outsource marketing for a higher RoI from their marketing budget.
72% consumers form an opinion of a brand by the quality of promotional items given by them.
Maximizing Business Growth with Effective Marketing Fulfillment and Swag Project Management
Promotional products are a highly effective way of connecting with prospective customers and building strong relationships with existing customers. They have proved to boost sales and revenues for companies. Corporate swag distributed among employees boosts morale and increases productivity. All these factors drive business expansion. You can maximize your business growth by outsourcing marketing fulfillment and swag project management to enjoy the benefits at a lower cost.
27% more is spent by swag recipients than those who receive a coupon.
59% of employees who receive swag have a more favorable impression of their workplace.
Promotional products are your brand ambassadors. Even while swag makes your brand come alive, you can rely on efficient marketing fulfillment and swag project management services to reap a higher ROI and boost business growth.
References
https://peertopeermarketing.co/marketing-swag/
https://www.linkedin.com/pulse/42-stats-you-need-know-promotional-products-sarah-whitaker/
https://blog.gitnux.com/promotional-product-industry-statistics/