It was a busy year for Inkwell Global Marketing!
We are excited to share with you some of our most recent accomplishments and what this means for you: our valued customers.
SAAGNY (Speciality Advertising Association of Greater New York) honored our team with the Distributor of the Year Award and the Technology Award for 2016. Let's take a closer look at what these awards mean and what you can expect from us this year.
What is SAAGNY?
SAAGNY is an organization that engages with the speciality advertising and promotional products industry. The organization's core focus is on New York, New Jersey, and Connecticut. Its membership is comprised of almost 900 members made up from both promotional product distributors and their suppliers. Inkwell is pleased to be a member distributor of this association.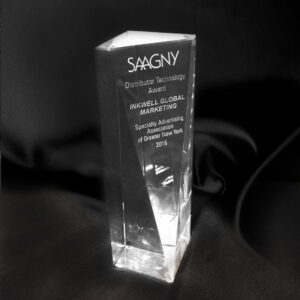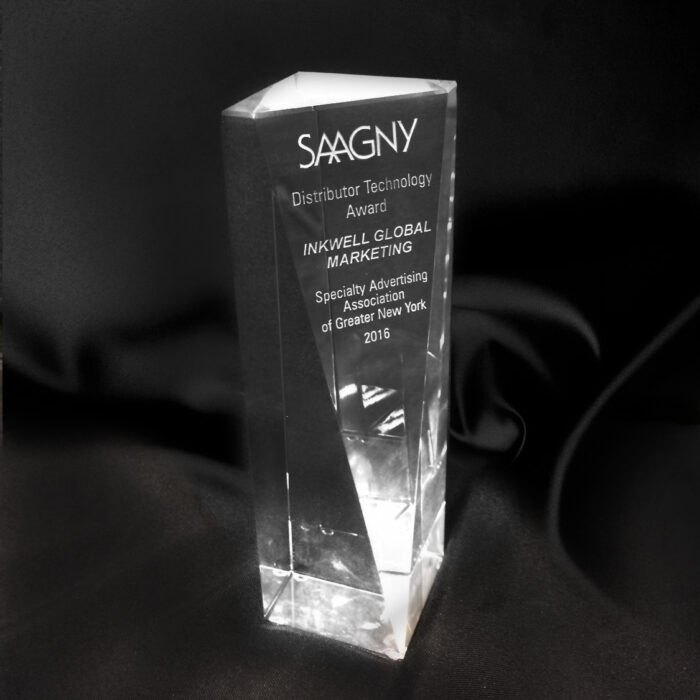 What Types of Awards Do They Give Out?
Each year, SAAGNY selects recipients for three prestigious awards from their membership pool. The suppliers vote on the distributor awards, and the distributors vote on the supplier awards. Inkwell is honored to have been selected for two of these awards.

Distributor of the Year.

This award is presented to the distributor member who most exemplifies the best professional practices as set by the association. Inkwell is honored to be the recipient of the "2016 SAAGNY Distributor of the Year."
Diamond Award (Technology).

SAAGNY introduced their Diamond Award in 1999 in an effort to increase creativity for selling promotional products. SAAGNY awards the Diamond Award to the distributor that has the most user-friendly and informative website. In other words, SAAGNY looks for a spectacular online presence that utilizes social media and other creative web practices.
One final award that SAAGNY distributes is the Supplier of the Year Award. This award goes to a supplier that sells promotional merchandise to distributors, such as Inkwell.
Supplier of the Year.

The recipient of this award demonstrates consistently innovative products, superior customer service and clear communications through their catalog, as well as other pertinent criteria. The supplier member is chosen by SAAGNY distributor members.
What Do These Awards Mean for Inkwell Global Marketing?
Our company has seen tremendous growth since our inception in 1983, despite a marketing landscape that has shifted to primarily digital. We have embraced what technology has to offer, such as with our fully integrated online global portal and 3D CAD design prototyping. Yet we have an appreciation for innovative promotional products that people can touch, see, and use in their everyday lives. This is how brand-consumer connections are formed – and why they last.
Being honored by SAAGNY validates our strategic goals. It gives us the motivation to keep moving in this direction – one that embraces technology but also stays true to traditional marketing practices. We are also excited that our innovation and out-of-the-box thinking hasn't turned anyone away – it's only brought us more business!
Thanks again for helping us to reach these milestones and for being a valued customer of ours! Stay tuned for another great year!