Boosting leads, sales and brand awareness are the key goals of businesses. This helps them grow at a rapid rate and stay afloat amid tough competition. Small establishments, especially, should have solid strategic, tactical and operational goals to flourish. One of the best ways to bring your business to the forefront of potential buyers' minds is to consider high-quality promotional products. These are inexpensive, versatile and creative.


Image Source: https://archive.getonlinenola.com/small-business-promotional-products/
They do better than business cards and act as great catalysts to enhance brand recognition. So it is not surprising that the market size of the promotional products industry in the US is $17.8 billion in 2022 which is expected to increase 1.9% in the same year. It has grown 0.8% annually on average between 2017 and 2022. Start-ups and small business owners can tailor products as per the specific target audience to drive better profits. If you are still hesitant to dedicate a portion of your marketing budget to promotional products, below are a few reasons to convince you otherwise.
Help Tap on Gen Z and Millennials
This age group is between 10-41 years which could be a huge customer base. Reusable, tech-friendly and practical swags are the best ways to grab their attention. They care more about 'experience' than 'things' and prefer a purchase from brands they identify with. Gen Z, in particular, is being raised in tough economic times and has a sheer taste of realism. They will make up roughly 25% of the workforce around the world and make up for self-reliant, pragmatic and savvy customers. Thoughtful promotional products from sustainable health and wellness, educational or electronics categories might be the only way to impress this politically active and environment driven generation.
Initiates Brand Loyalty
Studies have found that 40% of consumers keep promotional products for over 10 years. It is a good way to bolster genuine customer engagement. Free personalized items with your brand name and logo are often the first positive exposure to your business. In fact, a gift can increase the chances of converting customers and encouraging them to keep working with you. If you are a bar, consider sending durable and quirky bottle-openers. Spas and parlors can send skin-care products in the mail. People usually remember where they got it from which is much better than magazine ads or social media posts.
Budget-Friendly
Designing a good promotional product with a trusted professional will not cost a fortune. New companies should use 12-20% of their gross revenue on marketing. Promotional products would be the least expensive segment among other channels like content marketing, billboards, newspapers, SEO and search engine marketing. Instead, they help you market your brand for several months to come without spending any other extra amount.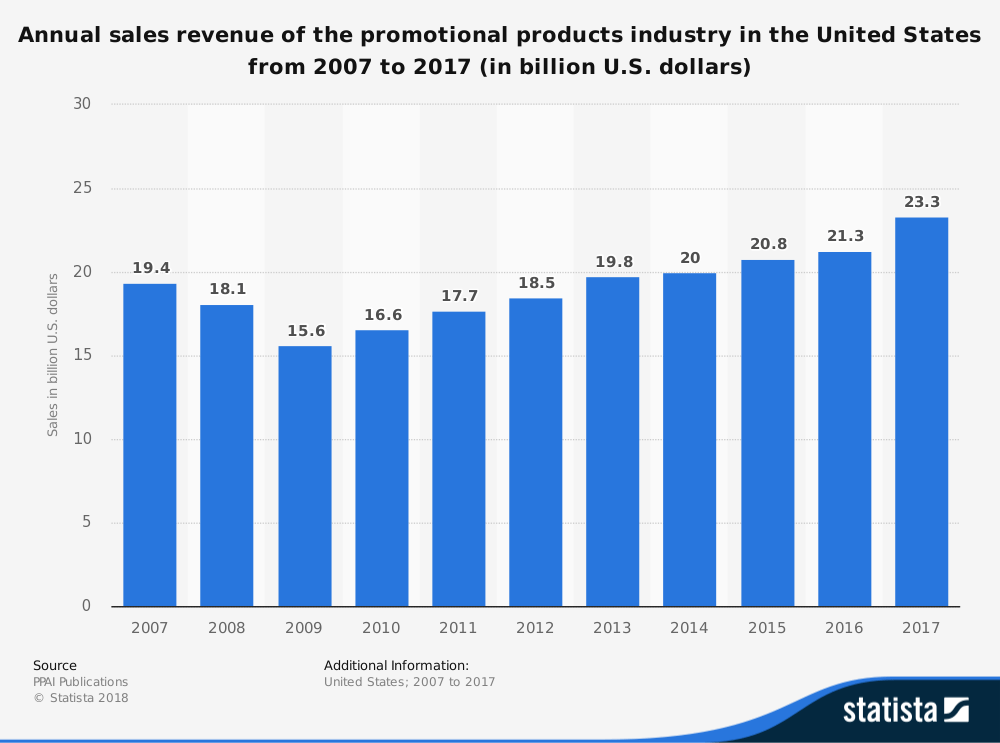 Image Source: https://brandongaille.com/36-promotional-products-industry-statistics-trends-analysis/
Promotional items can serve multiple purposes for a small business. Use it as appreciation gifts, new-sign up or subscriber gifts or as tradeshow giveaways. Pick the right design and color and make sure they are functional. Plants, water bottles, calendars, pen drives and fridge magnets ensure repeat exposure and can help increase your ROI in 2022 and beyond.