Ahh, the junk drawer. A haphazard pile of memories, it's full of plenty of odds and ends that may never be seen again. You might find frequently used tool-like things such as scissors, rubber bands and tape, infrequently used items like pennies, receipts and those plastic frequent shopper cards.
No one wants their promotional items to end up lost in the back of someone's junk drawer. So, if you're looking for something new and exciting to give employees, let's take a look at some of our customized corporate gifts that have some personality.
Customized Corporate Gifts with Personality
1. Customized Aromatherapy Candle
From stress and anxiety relief to pain management and improvements in blood pressure, energy levels and cognitive performance, aromatherapy could be just what the doctor (and employer) ordered. Give the power of scent while promoting mental well-being and rest with a therapeutic aromatherapy candle customized with your logo. Once the candle has burned out, your message will continue with the reusable tin.
Choose from cucumber melon, vanilla, rose, blueberry or apple cinnamon.
2. Wine Glasses Etched with Your Logo
Wine lovers will love these contemporary stemless wine glasses; they are the perfect way to show your appreciation to your clients and employees…and one gift you can be sure your employees will actually use. Stemless wine glasses are versatile as they can not only be used for vino, but also for cocktails and fruit-infused ice water.
If you're a traditionalist who prefers a stemmed glass, not to worry. At Inkwell we have a wide variety of wine glasses: stemmed and stemless available to choose from. Pairing a set of customized wine glasses with a local bottle of wine is the perfect way to say "cheers!" to teamwork.
3. Stainless Steel Tumbler
Streamline commuters and employee business travelers with a stainless steel tumbler to keep beverages at the perfect temperature. Any type of reusable tumbler or bottle is a better environmental choice than handing out a disposable one, but nothing can withstand the daily usage of high quality stainless steel- plus, it just tastes better.
Double-walled mugs provide insulation to keep hot drinks hot and cold drinks cold for a comforting beverage that can be enjoyed for hours. Well-known for its antibacterial and hygienic properties, stainless steel is the best choice for healthy hydration. Choose from our wide variety of styles, shapes and sizes that is sure to resonate with your staff.
4. Portable Power Bank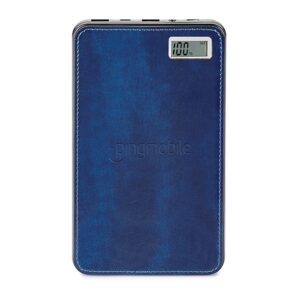 When you're on the go, the last thing you want to see is your battery light flashing "empty" on your smartphone. If your staff is busy, connected, and plugged-in (which most of us are), a portable power bank can offer a peace of mind to keep phones operational at any time…anywhere.
So, whether they're listening to podcasts on their commute, chilling to music while they work (or workout) or just multitasking on a business trip (or a much deserved vacation); devices get a lot of use. Help them stay powered up and connected longer with a quality portable power bank customized with your logo.
Choose from a wide variety of chargers from 2,000 mAh to 16,000 mAh of backup power for mobile phones or other digital devices.
Customized Corporate Gifts from Inkwell
Whether you need product for trade shows, human resource initiatives, recruiting, product launches, company events, corporate gifts, customer appreciation or direct mail programs…we do it all! Feel free to contact our team of experts for more ideas and to help you keep your brand in front of customers, clients and employees all year long!
Contact us today at (800) 437-8518.