Summertime is almost over, which brings up one important question: Is your school ready for the kids to come back? Students of all ages, from pre-school to college, are looking forward to a fresh, new school year and one way to get in on all that excitement is through personalized back to school wholesale promotional products and educational items.
Whether you are showing appreciation for your awesome teachers, welcoming stellar students back to school or cheering on your sports team, Inkwell Global Marketing has you covered. If you can't tell, we're kind of excited to help you get the most out of your next promotion and hope you are, too!
Show Appreciation for School Employees
Students aren't the only ones who get excited about the first day of school. For teachers, every year is new and exciting. From conferences, specialty classes, like health education class, and Teacher Appreciation Week (which is May 7-13, by the way) or World Teachers' Day (in October), demonstrate school pride with these back to school wholesale promotional products for teachers.
Hand out a thumb drive for teachers to carry lesson plans, presentations and hundreds of other digital files. Before gifting the drive, consider loading up a thank you note for a personal touch.
A stress ball can ease the tension after a long day of corralling kids, lecturing classes and grading papers.
What teacher doesn't love coffee or tea? Keep hot drinks hot and cold drinks cold in a personalized travel tumbler.
No matter why you decide to give (or what you decide to give) to make a lasting impact, you can't go wrong with these school wholesale promotional products. Any reason is a good reason to show appreciation.
Get Students Engaged
Customized homework supplies can make all the difference for a student's learning environment and plus, they show some serious school spirit (hello, brand exposure).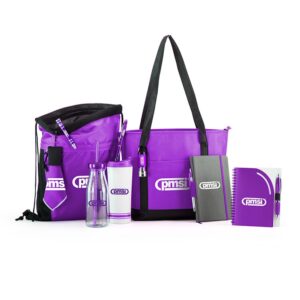 Get kids prepared for the first day of school with an academic school kit, branded calculators or personalized JournalBooks.
Make note-taking fun again with this 4-color highlighter set and encourage them to stay organized with our eco-friendly Appeel weekly planner made from ground apple peels.
And once they have all your custom classroom supplies, they'll need a handy Team365 Equipment Backpack to put it all in… customized with your school mascot, of course.
Have incoming Freshman that need orientation packets? Arm them with school merchandise like school pens, folders, keychains or ID holders.
Make your tours memorable for prospective students or recently accepted students by gifting them with their first piece of school merchandise, from hats to t-shirts to car window decals or bumper stickers.
Items like these are ideal to keep in stock for your school store as well. Contact our experts to learn more best practices for school branding.
Cheer On your Team
Branding is one thing that can help your school or university stand out from all the rest; plus, it gives students, faculty and school leaders a strong sense of camaraderie and pride.
Duffle bags never go out of style. Our Nike Sport Duffle III is an excellent choice for sports teams or academic clubs.
Get the crowd loud for "the big win" with custom Ring-A-Ling Cowbells or fun Mega Hand Clappers and give spectators imprinted Fan-ta-STICKS to make your next pep rally come alive.
Outfitting athletic teams and branding student uniforms have been shown to boost involvement and lead to better grades. Search through our variety of name-brand polo shirts, pullovers and more.
At Inkwell, we pride ourselves on offering a winning combination of high-quality designs and cost-effective school wholesale promotional products that are perfect for all your fans in the stands, alumni supporters and team players.
Back to School Wholesale Promotional Products for Fundraisers
Booster clubs, PTAs, athletic teams, choir, bands, theater club… they all need to sell items to raise important funds. Most likely your community has enough cookie dough and magazine subscriptions, so let students and parents show their school spirit with fun, new items and banded appeal.
Groups can raise money with logoed lunch bags, water bottles, hoodies and pretty much any tech product you can think of!
Inkwell Global Marketing is Your All-In-One Team Supporter for School Wholesale Promotional Products
We look forward to helping you build school spirit, show off your team and keep students engaged (all while keeping budgets low). We have everything you need to score a V-I-C-T-O-R-Y with your promotion and remember, you have a lot of imprint options. While your school name or mascot may seem like the obvious choice, don't forget other ideas like inspirational quotes, personal notes or club names. And if you don't see what you're looking for online, we also offer custom product manufacturing!
Search thousands of products at www.inkwellshowcase.com and contact us at (800) 437-8518 for more information…  and school spirit inspiration.