With the holiday season around the corner, it's time for businesses to start thinking about how to show employees and stakeholders their appreciation. Gifting personalized, company-themed swag allows employees to celebrate a year of success and collaboration!
Why Gift Holiday Swag?
The days of obligatory, disposable gifts are over. Instead, the holidays provide a fantastic opportunity to celebrate your team's accomplishments and build your company culture. Gifting popular swag items is an impactful way to spread goodwill, increase brand awareness, solidify your relationships with your team and set the tone for the coming year. Plus, people are likelier to keep, use and appreciate useful, high-quality swag.
9 Holiday Swag Ideas
The holidays provide the perfect opportunity to show your team how much you care. Instead of relying on standard gifts like cards, you can gift people something they'll use and remember — a swag pack full of personalized gifts that say "Happy Holidays."
Creating swag packs is a fun and creative way to approach holiday swag, and you can make your own, depending on what you want to gift and to whom. The following list can act as a starting point, giving you inspiration for holiday swag bag ideas.
1. For the Romantics
For many, the holidays conjure images of sipping hot cocoa before a fire. Make that dream a reality, and gift employees everything they need in one place. Think about what else hot cocoa reminds you of — a pair of fluffy socks, a gorgeous holiday mug, and some gourmet popcorn or cookies. Recipients of this thoughtful collection will reach for their hot cocoa at the first whiff of cooler weather.
2. For the New Year
As the holidays end, people begin to focus on their goals for the new year. Many want to focus on staying more active, and your business can help these individuals get a jumpstart on their goals.
Consider putting a health and fitness pack together for giftees with goals. You can include anything fitness-related, from water bottles to athletic socks, T-shirts and caps. A well-rounded swag pack has something for everyone — a T-shirt for gym lovers, a hat for morning runners, a water bottle, a sporty bag to hold the workout essentials and even a silicone watch strap. Regardless of the contents, this gift shows people you care about their goals outside the office.
3. For the Travelers
While some like to snuggle up with hot cocoa during the holidays, others want to broaden their horizons and experience new places. If there's one thing holiday travelers need, it's luggage. Almost 47% of Americans traveled during the holidays in 2022, and you can surprise this year's travelers with a gift that makes staying organized a breeze, from clear fanny packs for easy passport access to a garment travel organizer. Add a nifty travel tumbler and some snacks for the road.
4. For the Winter Blues
Sometimes, keeping cozy through the holidays takes more than hot cocoa. Put a winter warmer pack together to ensure employees have everything they need. Think beanies, jackets, sweaters, pullovers, soft fleecy blankets, scarves, socks and more. Then, add a coffee mug, gloves and mittens for the finishing touch.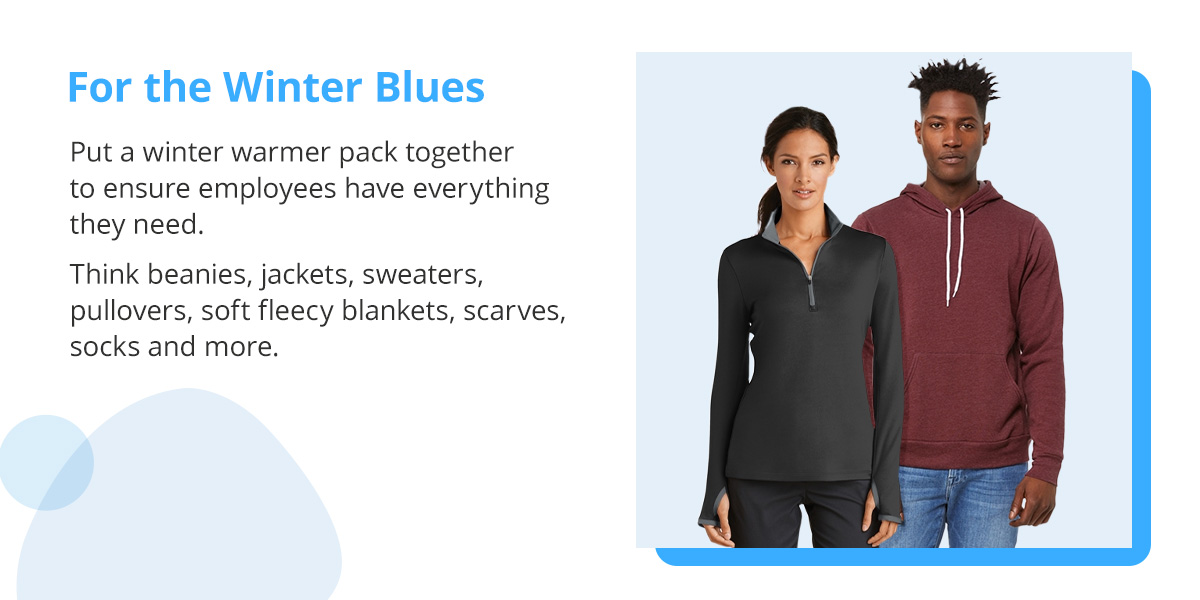 5. For the Tech Lovers
A tech-related gift is practical, and with so many imaginative gifts available, you can choose a combination that reflects your business and helps your team when they return to work in the new year. If you want to stick with helpful items, you can light up your logo with a cable set, let them charge their devices anywhere with a wireless phone stand, or take notes with a writing and drawing tablet. Add some headphones or speakers for the music lovers.
6. For the Camping Enthusiasts
Celebrate the outdoor enthusiasts with some swag they can use year-round. Over 50 million Americans went camping in 2021, so make someone's next camping trip memorable with a swagged-out kit with all the essentials. Think camping mugs, beanies, s'mores ingredients, cooler boxes, dry bags, hoodies and multipurpose tools. You can add a picnic blanket, a flashlight and a folding chair to help camping fans unplug and connect with nature. Your brand will travel with them the next time they hit the campgrounds.
7. For the Pet Lovers
Spending time with pets is one of the best things about the holidays, and since 66% of households have a pet, you can rest assured that any pet-related gifts are appreciated. Ensure your team's pets are swagged out next time they hit the dog park with a collection of useful and fun items perfect for the holiday season.
You can choose from a range of items, including collars, leashes, toys, bandanas, waste dispensers, water bottles and collapsable traveling bowls. Make it extra special with some matching swag for pet parents.
8. For Making Holiday Memories
The holidays are for making memories that last a lifetime. Take your holiday swag to the next level by encouraging your team to take festive photos in matching apparel. Gift a T-shirt, beanie and scarf for each family member, and add some holiday decorations and a camera so they can capture their matching moment.
9. For Self-Care
Aside from the celebrations, the holidays are a great time to unwind after a successful year. Encouraging your team to indulge in self-care is an excellent way to show them how much you care. Compile some healthy, reflective and relaxing gifts like a journal and pen, yoga mat, blanket, massage ball and candle. Top it off with some decadent lotion, lip balm, water bottle and sun protection. Add some eco-friendly extras for an environmentally aware holiday option.
Take Your Company Gift Ideas for Employees to the Next Level With Inkwell Global Marketing
The holidays are an opportunity to elevate your brand awareness and show team members you care about their happiness. Inkwell can help you deliver creative branded solutions for the holidays with our streamlined procurement and distribution process. Everything is done in-house and made to order so you can rely on quality items people will use.
Our swag packs are the perfect way to customize holiday swag that thrills your team and reflects your values as an organization. Build your swag pack today, or browse our swag options for more inspiration. Or, contact us for more information on how we deliver your brand on demand today.