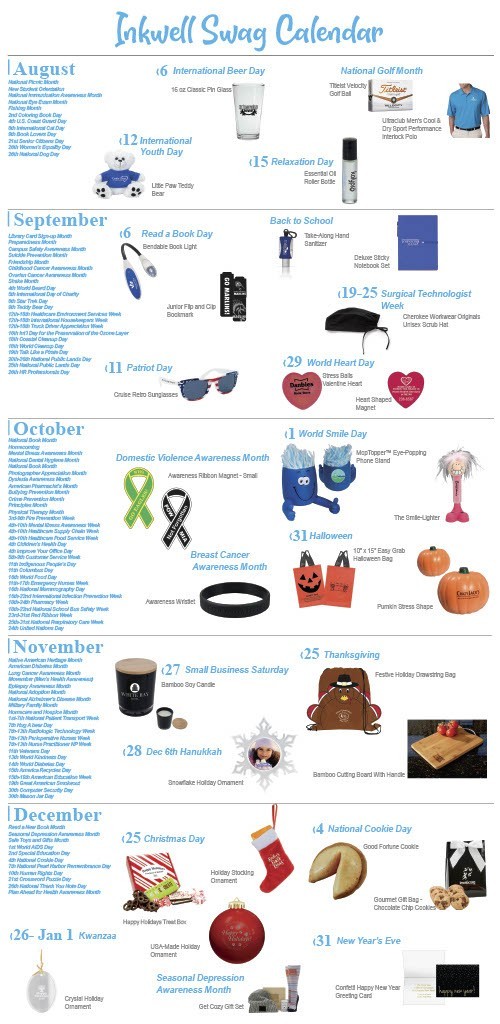 July is a peak time to celebrate the outdoors and spend time with neighbors, family  and friends. Browse our grilling accessories and ice cream gifts which include a Do  it Yourself Ice Cream Kit Box which is perfect for both kids and adults to enjoy! Our  recreational and park related items are great to enjoy a nice picnic or a barbecue on a beautiful, warm afternoon. We also have an abundance of items to celebrate  Independence Day, the most festive holiday of the year. Each item encourages  having fun in the sun and starting the summer off to a great start.
August – Following National Recreation and Parks Month, August focuses on Golf. What  better way to start National Golf Month than with high end polos and golf balls that  will help perfect your golf game. August starts off the month celebrating the youth  with International Youth Day on August 4th. Plush teddy bears are a perfect little gift  to make any child a happy camper. That same day, don't forget to sit back, relax,  and enjoy a hot summer day with custom beer glasses for International Beer Day.  Summer is all about having fun but relaxing and prioritizing health is still important.  There is no better way to do that than with essential oils that are able to be rolled  right on and calm your mind. All of these promotional items will help make August.
September- Promoting wellness is something that should be done all year round but September  focuses on it with it being Suicide Prevention Month. With summer coming to an  end and back to School starting, it is important to prioritize mental health. Celebrate  the return of the school year with materials including travel size sanitizers and  notebook sets to keep organized and stay healthy. Immediately following Back to  School Day is Read a Book Day. Bendable book lights and bookmarks are just a  few of our many items that are offered to keep reading fun and enjoyable! September ends with a week that supports Surgical Technologists and brings awareness.