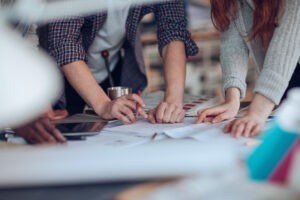 If you're looking to create an innovative brand experience, Inkwell Global Marketing is your one-stop-shop – a NYC promotional products company ready to bring all your ideas to life. Our custom product manufacturing experts will help you design branded merchandise that will deliver a truly unique campaign reaching all corners of your industry.
NYC Promotional Products Company Delivers Customized Results
Got an idea? Our experienced professionals are here to guide you through each step of the process, from your simple vision sketched out on paper to a graphic design…all the way through to your finished product sample. Ready to get started with a customized promotional product?
Here's what you need to know.
Generate an idea. It's as simple as describing your ideas to our experts or snapping a picture of your vision sketched out on paper and sending it our way.
Turn that idea into reality. Our graphic artists will listen to the details of your vision and work creatively to create innovative solutions that will make your brand splash.
Discussing the details. Together, we'll discuss how your ideas will fit your technical requirements. You will receive a professional and prompt quote with product details so you can determine if the end-result will match your business's budget and timing needs.
Pre-production samples. To ensure you are 100% satisfied with the final product, we have virtual proof capabilities to create renderings and a deliver a pre-production sample for your approval.
Production time. Once approved, we'll manufacture the requested number of customized promotional products and deliver the goods on-time and on-budget.
Inkwell Global Marketing, Your Full-Service NYC Promotional Products Company
As the largest New Jersey and New York promotional company, our warehousing facilities also allow us to offer volume discounts to businesses all over the U.S. so you don't have to store the inventory yourself. With real-time inventory management, we will monitor your usage rate and modify fulfillment systems to your specific needs so you get items when you need them most.
Whether you need to incorporate a corporate web solution with punch-out integration so employees have the ability to purchase branded merchandise online or you're organizing an event package and require ready-to-ship kits, our convenient on-demand inventory offers the convenience to choose 24-hour shipping solutions as well as the ability to even order one item at a time.
Top Promotional Products Company in NYC
We're more than a promotional products company. Inkwell Global Marketing has been exceeding client's expectations since 1983. Whether you're a Fortune 500 company or a small New Jersey business, we'll guide you to create the most cost-effective, innovative solution for your event or promotion.
Simply put, we're the top NYC promotional products company, offering customer service like no other, including our 100% satisfaction guarantee.
Contact us at (800) 437-8518 for more information and get inspired for your next promotional project.