So many different types of products can help a business market their brand, but none can carry a message quite like promotional tote bags. As a flexible marketing tool, they work for retail brands of all sorts, business giveaways, charities, schools, you name it.
Here at Inkwell Global Marketing, we're all about helping you get noticed with products that make an impression, like our wide variety of customizable promotional tote bags. Just take a look at a few reasons why we think they're TOTE-ally amazing:
Become Memorable with Customized Promotional Tote Bags
We get excited about customizable tote bags, they're like your very own portable billboard (only you don't have to pay a monthly rental fee). They have a massive imprint area that ensures ample room for your logo and all your messaging, plus people use them almost daily giving your valuable brand impressions. In fact, some studies show that in the US, 34% of consumers own a promotional tote bag, which can earn over 5,700 impressions for your logo!
Every time your customers or clients use your bag, they become a brand advocate spreading your message wherever they go. Free advertising, anyone?
They Hold Up
Sturdy enough to support all of your items, our totes feature reinforced handles and many can hold up to 22 pounds or more. And speaking of holding stuff, custom tote bags are perfect for carrying pamphlets and other small promotional items at your event! Your number one practical and versatile marketing tool.
Be Environmentally Responsible
Not only do reusable promotional tote bags look nicer than the standard paper or plastic shopping bags, they also last much longer so your audience can keep reusing them. According to the National Conference of State Legislatures, states continue to consider strategies to reduce the use of carryout plastic bags from grocery stores and other retail outlets. Notable cities with plastic bag bans currently include: Austin, Cambridge, Mass, Chicago, Los Angeles, San Francisco, and Seattle (more are following suit, soon). Therefore, reusable shopping bags are becoming increasingly popular for customers and stores all around the country, replacing plastic bags.
Plus, many of our tote bags are washable and made of eco-friendly or biodegradable materials making them the ultimate environmentally responsible choice to give away.
Inkwell Global Marketing Promotional Tote Bags- So Many Options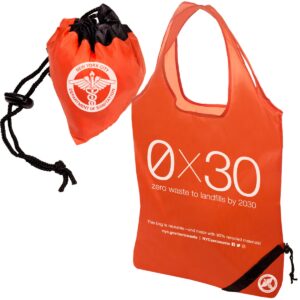 Totes can be one of the most effective promotional items because of their never-ending utility and we have a tote bag for every budget. So whether you are looking for a fun, inexpensive shopper tote to give away at your next event, a high quality boutique bag like our Vibrant Cotton Canvas Tote, or even a luxurious, oversized Cotton Boat Tote, we have the perfect option for you and your brand.
Contact Inkwell to design and produce a re-usable bag for your company! Search thousands of products at www.inkwellshowcase.com and contact us at (800) 437-8518 for more information and inspiration. And if you don't see what you're looking for online, we also offer custom product manufacturing.